HR / Job Portal / Recruitment Agency Website Templates
What are the key business processes for any HR Agency?
Let us look at the business from a process perspective. The key business processes of Recruitment agencies are (in order):
Sourcing candidates: This involves identifying and attracting potential candidates through various methods such as job postings, networking, and headhunting.
Screening candidates: Recruitment agencies review resumes and conduct initial interviews to evaluate the qualifications of potential candidates.
Matching candidates: Agencies match the qualifications and skills of candidates to the specific requirements of job openings.
Presenting candidates: Agencies present qualified candidates to their clients and provide detailed information about the candidate's qualifications and experience.
Coordinating interviews: Agencies arrange interviews between candidates and clients and provide feedback to both parties after the interview.
Negotiating offers: Agencies assist in negotiating job offers and salary packages between candidates and clients.
Placement: Agencies assist in the final placement of candidates in job positions and provide follow-up services to ensure a successful start to the new job.
Invoicing and collection: Agencies invoice and collect fees from clients, typically a percentage of the candidate's first-year salary.
In other words, a HR / Job Portal / Recruitment Agency business partners with its clients and helps manage the various needs of their human resource (HR) vertical. Most clients typically outsource the task of fulfillment of their vacancies / vacant positions to partner Recruitment Agencies, and the agency performs the task of gathering the appropriate resumes and scheduling the interviews.
Thus, the overall business processes for an HR Agency is searching the resumes from its database (sourcing, screening, matching), and actively communicating (presenting, coordinating and final placements) with both the candidates and the client to ascertain the fit. Only after these steps the invoice can be raised to the client.
Zimeshare can help you automate it all!
Did you note that all of the above processes can be automated via your website?
See most of the work in HR industry can be done manually, but the best agencies use their website to create an edge over their competition by automating various tasks of the process to save time and increase efficiency in these ways:
Clients can login and post their vacancies
Administrator / Agency Owner can approve the vacancies and assign it to a recruiter / executive.
Administrator Dashboard shows the status of every job and daily performance of every recruiter, data entry executive, resume sourcer team member.
Recruiters can search for appropriate resumes in the dashboard and shortlist them
Candidates can directly apply to the jobs listed on the website.
Optional / Advanced Features of the website:
Agency can share these resumes with the client with redacted contact information.
In-app chat: Clients can chat with the candidates and schedule intervies themselves.
Agency can sell resume search service to other agencies
Agency can have inbuilt contract and fees-management module
---
How our software can help you with
candidate sourcing
Recruitment agencies can use software to improve their candidate sourcing process by using the below:
Job Board Aggregators: Did you know that there are softwares which allow you to post a JD once, and it would replicate it on many other job boards and career websites automatically? No need of going manually to hundreds of places and entering your JD there. Zimeshare can help you with such a software.
Applicant Tracking System (ATS): See all your data with a birds eye view! An ATS allow HR agencies to manage resumes, cover letters, and other candidate information in ONE central database. ATS also enables (other / client) agencies to search resumes based on keywords, qualifications, and other criteria, making it easier to find the right candidates, and can provide you very valuable tracking about their usage of your database. See Features of Zimeshare's Complete ATS Here.
Social Media Recruiting: Recruitment agencies can use a central software to post their JD on multiple social media platforms such as LinkedIn, Facebook, and Twitter - just like a Job board aggregator.
Resume Parsing: Software that parse resumes can automatically extract candidate metadata, such as name, contact details, education and work history, and store it properly, making it searchable via the correct keywords (skill, location and experience) and providing a better match to your serach queries.
Email Campaigning: Automatic Email marketing software allows agencies to send mass emails to potential candidates, keeping them informed about matching job openings and encouraging them to apply. Software can also be made to ignore candidates who never open their emails, or to favor the most active users only.
The biggest advantage of using software is that it helps recruitment agencies to their candidate sourcing process, while at the same time also increasing the number of candidates they attract, this identifying the best candidates more quickly and efficiently over their competition.
---
How our software helps in better
candidate screening
Screening is a very crucial role in HR. It is like using a sieve to find a needle in a haystack - one needs to make select which candidates to move forward with. Earlier this used to be a tedious manual process, but now firms can use software to remove human biases and improve their candidate screening process in several ways:
Online assessments: Agencies can use software to administer automatic online exams to find their cognitive, behavioral and skills match to certain job posts - which may want an evaluation of candidates' qualifications and skills in a more objective and standardized way.
Video Interviewing: Agencies may conduct interview over zoom or other video chats, which allow them to evaluate a candidate's communication skills, body language, and overall presence. Video interviews are now mainstream and acceptable post-covid, even if they were a novelty some years back. These interviews can be recorded and saved for a long time.
Background and Reference checks: Most companies require a verification of information such as employment history, education, criminal records, references post-hire. To check candidates' antecedents physically, you may use automated outsouring to third parties etc. and store their findings in a private database. For references, sending automated email or messages to the references can be easily done.
Intelligent Matching: In today's time of Artificial Intelligence (AI) and Machine Learning (ML), there are many services available in the market that can read PDFs and other documents submitted by the candidate, and can identify the best match on a predefined set of criteria. We can integrate such services so that you can do best-in-class intelligent matching very easily. No need of sitting countless hours manually reading thousands of resumes!
Website designs for HR / Job Portal / Recruitment Agency
Just provide your content, and get a website looking like this within a few hours. Let us handle all the tech aspects, so you can focus on your business.
As discussed above, an HR / Recruitment website with embedded softwares that allow clients to post jobs automatically and allow candidates to create their profiles and apply to jobs automatically can supercharge your profits and ease of doing business.
What is the use of building an HR / Job Portal / Recruitment Agency website without having client management (CRM), resume searching, and communication automation? Just consider the following question: how much money would you save in manual manhours if you use these software modules efficiently in managing your business?
Zimeshare can provide such a prebuilt website for your business on subscription - we can add the below softwares in your site easily. Contact us to learn more.
If you are looking to streamline the recruitment process and make it easier to manage resumes, applications, and candidate data, you can use Zimeshare's Complete ATS. It offers the following features:
1. Resume / CV parsing: The ability to automatically extract candidate data, such as name, contact details, education and work history, from resumes and CVs and store it in a searchable database using integration with the most cutting-edge AI software.
2. Automated Job posting: The ability to post job listings on various job portals and career websites, and track and manage all the job applications in one central location.
3. Search best-suited candidates: It can automatically find the best match candidates! Hours saved!
4. Automated Communication: Send emails, whatsapp, sms, notifications etc. to matched candidates automatically. And tracking the progress of the application, and do followups based on rules.
5. Dashboard: Show all the data - the number of resumes received, the number of candidates interviewed, and the number of hires made etc. for analytical decisions in a graphical format for decision-making and reporting.

Some SEO Tricks used @ Naukri
Let us glance at the SEO techniques used at one of the leading job portals of India, Naukri.com, which has a very dominant hold on its market. Naukri gets a lot of organic traffic using its very powerful job portal which enables sales of online services, companies to login and post jobs automatically and also buy its resume search services, and on the other hand it allows candidates to also login, create their profiles and apply to jobs very easily.
One of the most powerful SEO techniques used at Naukri is the methodology of creation of their URLs for job posts. For example a sample URL is
https://www.naukri.com/job-listings-urgent-required-for-flutter-developer-subway-india-kolkata-hyderabad-secunderabad-pune-chennai-bangalore-bengaluru-delhi-ncr-mumbai-5-to-10-years-123456789
(The above URL does not exist. To see the below manipulation for yourself, open the website and open any URL in your browser.)
Note that the URL is optimized to match the following keywords which people will search:
flutter jobs in kolkata (skill and location)
jobs in subway india (company name)
jobs for flutter in kolkata with 5 - 10 years (skill, location and experience)
urgent flutter job in kolkata
Now let us start to manipulate the URL to see how many different keyword it matches and dominates the search listings. The above same url will open the same page / job listing even if parts of the URL are removed. For example, remove the 'kolkata' and 'hyderabad' in the URL and see that the page still works and shows the same Vacancy. Try manipulating more and remove keywords and see the extent of the flexibility.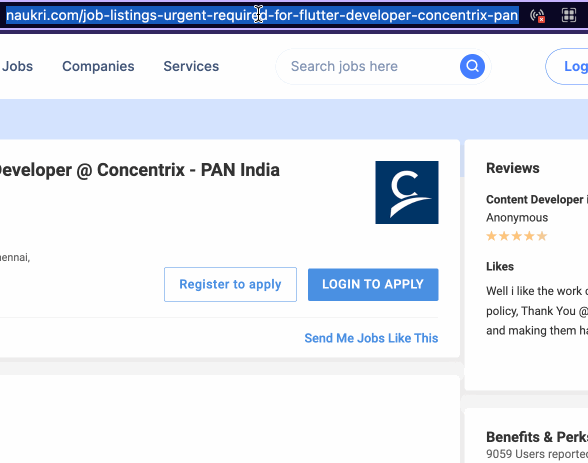 Zimeshare provides and includes such powerful SEO facilities in our pre-built softwares.